Happy Mothers Day Mom!

I actually do have a present for you, which I didn't remember I had until this morning. But it's not here. You'll get it sooner or later. Anyway, I didn't have time or money for a card and stamps. But you'll get a phone call, and you get this. I didn't make this background set because I didn't have any good Mothers Day graphics, but I have made this page. I hope you like it...

I did find some graphics gifts for you...

I also found a little poem I thought you might like.
RICHER THAN GOLD
You may have tangible wealth untold;
Caskets of jewels and coffers of gold.
Richer than I you can never be --
I had a mother who read to me.

-- Strickland Gillilan (1869-1954)
Click here...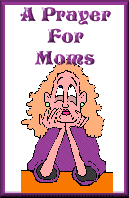 I don't have anymore nifty little offerings for you. I do want to tell you that I love you. I know I'm not always the best daughter around. And I know I'm not in touch as often as I should be. I also know that I don't tell you nearly often enough how much I love you. I'm lucky to have a mother who accepts me, respects me, and loves me anyway. No matter how it may seem, I'm constantly grateful for that.
I guess that's all I wanted to say. I hope you enjoy this page. I love you Mom...
Happy Mothers Day!
Love,
Gem